The Bersa Thunder 380 CC is a variation of the popular Bersa Thunder 380 that has been smoothed and designed especially for concealed carry. Differences include much lower profile 3 dot sights. Shorter overall length and shorter barrel length. It has a combat style trigger guard which means you can wrap a finger around the front of the guard. I personally like this feature. The smooth double action trigger is a true double action that drops the hammer every time the trigger is pulled. Although the trigger pull is long, it is smooth and has a crisp break. Accuracy of the Bersa concealed carry model is impressive and recoil is low making this small pistol very comfortable and fun to shoot.
It also has a bobbed hammer and a low profile slide release lever that is actually a slide release and not just a slide stop. Other features include a loaded chamber indicator and a safety de-cocking lever.
An interesting difference the Bersa Thunder CC has over the standard size model is a larger magazine capacity. The CC holds 8+1 compared to the standard model at 7+1 rounds. The magazines are not interchangeable between the CC and other Bersa models.
Disassembly for cleaning and inspection is similar to the full sizes Bersa Thunder. Pull the slide back to lock it open. Rotate the takedown lever, then pull the slide assembly back and to remove from the frame.
Here is an informative video of Hickock45 shooting the Concealed Carry Bersa 380 pistol.
Bersa Thunder 380 CC at the Range with Hickock45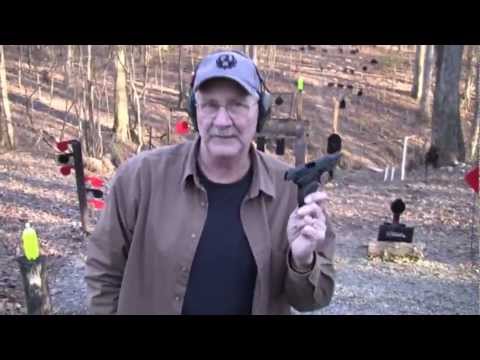 Something to keep in mind is that this inexpensive pistol has the potential to be an exceptional quality pistol. It is mass produced and not every gun coming off the assembly line gets a thorough inspection. Some of the pistols shipped have excellent potential but have final assembly issues such as stiff controls or some other malady that can be remedied by thorough cleaning, polishing, and lube. Be sure to perform a complete disassembly, cleaning, inspection, and lube before that first trip to the range.
The Bersa 380 CC comes with an original owner limited lifetime service and repair warranty.
The Bersa Thunder 380 CC can be found for sale online and at some local gun shops in the $300.00 range.
Bersa Thunder 380 CC Specifications
Model: THUN380CC
Caliber: .380 ACP
Action: DA
Capacity: 8+1
Barrel Length: 3.2"
Front Sight: Blade Integral with Slide
Rear Sight: Notched-Bar Dovetailed
Sight Radius: 106mm
Finish: Matte Black, Satin Nickel
Grips: Checkered Polymer
Construction: Alloy Frame/Steel Slide
Safety: ILS, Manual, Firing Pin
Weight: 16.4 oz.
Length: 6"
Height: 4.5"
Width: 1"
Incoming search terms:
bersa thunder 380 cc dimensions